Pre-Loved
On this page you will find a selection of used bikes that we are selling on behalf of our customers. These bikes are available at our shop in Seaford for viewing by potential purchasers.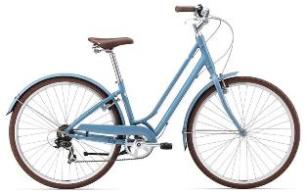 2015 Liv Flourish 3
One almost unused classic lady's town bike. Size X-small. Comes with detachable wicker basket, lights, gloves and a ding-dong bell! A stylish ride for just £300.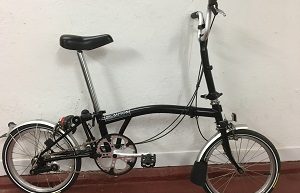 2015 Brompton M3L
The classic folding bike from Brompton. Simple 3-speed hub gears. Folds down small and neat. Only used once. Cost new £949, now just £500.
2012 Felt Z85
Aluminium road bike. Size 56cm. Carbon fork and seatpost. 10-speed Shimano 105 gears.
Much loved and ridden, hence £400.
2014 Anthem X 29er
Giant Anthem X 29er 1, size medium. An immaculate example of this cross-country mile-muncher. Serviced and maintained by us since new. £900.
Giant Cypress
Nice clean example of a classic hybrid. Front and rear suspension with adjustable handlebars make for a smooth, comfortable ride. Yours for just £250.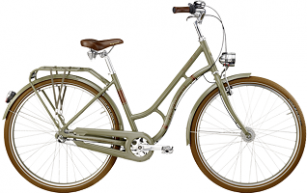 Summerville N3
We have 2 of these bikes, both as new, both 48cm frame. One has a basket. Cost new +£500, now just £350 each.
2016/17 Road-E+ 2
Electric road bike with 20-speed Shimano gears, hydraulic disc brakes, Yamaha motor, & 400W lithium-ion battery. Full warranty. Size medium only. Was £2,299, now just £1,609.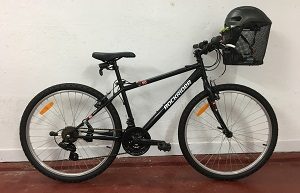 Rockrider
Bargain starter bike! An MTB-style hybrid complete with basket, helmet, pump, lights, propstand and lock. 15″ frame would suit someone approx 5ft tall. Just £75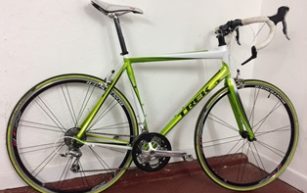 Trek 1.5 (56cm frame)
A low-mileage classic with pearl white+metallic lime, aluminium frame. Carbon forks, 27-sp Shimano Tiagra gears. Beautiful condition. Comes with extra Michelin Pro3 tyres. £350. Size 56cm.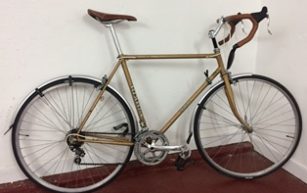 Manufrance Hirondelle
Ooh la la! This bike is a retro, steel-framed, French beauty with original 6-speed Simplex gears in good working order. 57cm frame. £225.