Women
At Mr Cycles we offer bikes specifically designed for women. Giant's lady-specific range is called 'Liv'.
Need off-road performance? Try one of the Liv Tempt models with 27.5″ wheel size. Hybrids such as the Liv Rove are particular customer favourites, as is Giant's retro-look Flourish range (think Pashley but twice as good and half the price).
Ridgeback Bikes
New to Mr Cycles, Ridgeback are a UK brand that's been offering great-value bikes since 1983. Click on more info to take a look.
Avenida 21
A classic, black beauty. 21-speed Shimano gears, mudguards, stand, pannier rack, suspension seatpost, all fitted to a low, aluminium frame. Manual £549 (electric £1349).
Avenida 7
All the practical comfort of the Avenida 6 but with a high-quality, low-maintenance, Shimano Nexus 7 speed hub gear and dynamo lights. Manual £599, or electric £1399.
Avenida 6
A classic aluminium frame, upright position, swept back bar and suspension seat post put you in the perfect position. Full-length mudguards and pannier rack. Manual £449, or electric £1249.
View Full Range
Below is just a selection of the Giant Liv ladies' bikes that we stock. To full the full 2021 range, or to order online and collect in-store, click on the 'View All' button.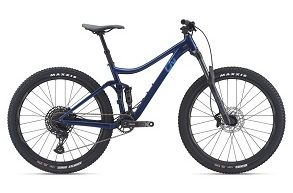 2021 Liv Embolden
A stunning bike for the price. Take on the rough stuff in comfort and style with this great value full-suspension MTB. Two models from £1549.
2021 Liv Tempt
The lightweight frame is designed specifically for women. The Tempt combines speed, efficiency and control to take you from tame dirt trails to more challenging adventures. From £399. Or go electric! From £1199.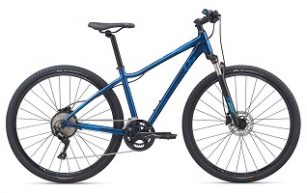 2021 Liv Rove Disc
High street, side streets or forest trails. Your choices are limitless with the versatile Rove. Four models from £479. Or go electric! From £1279.
2021 Liv Flourish
In our opinion, twice as good as a Pashley, made from lightweight aluminium, and cheaper! With or without basket. Four models from £399. Or go electric! From £1249.
2021 Liv Alight
This perennial urban workhorse, with its lightweight frame and comfortable riding position, will whizz you to work, college, town, beach, friends… From £379. Or go electric! From £1229.
2021 Liv Alight Disc
Always a pleasant bike to ride to and from, or in and around town. High-volume tyres and disc brakes the Liv Alight is now evolving into a modern classic. Four models from £429. Or go electric! From £1229.
2021 Liv Thrive
A fast, light bike with the speed and weight of a road bike, but with the stability, comfort and ride-position that comes from its straight handlebars. Three models from £649.
2021 Liv Avail
From epic solo adventures to group road rides, the Avail is light, comfortable and engineered for female riders. Two models from £679.
2021 Liv Avail AR
Let your colours show! Follow your adventure on the road less-travelled. Four models available from £899.